List: What We Got For Christmas…And Really Liked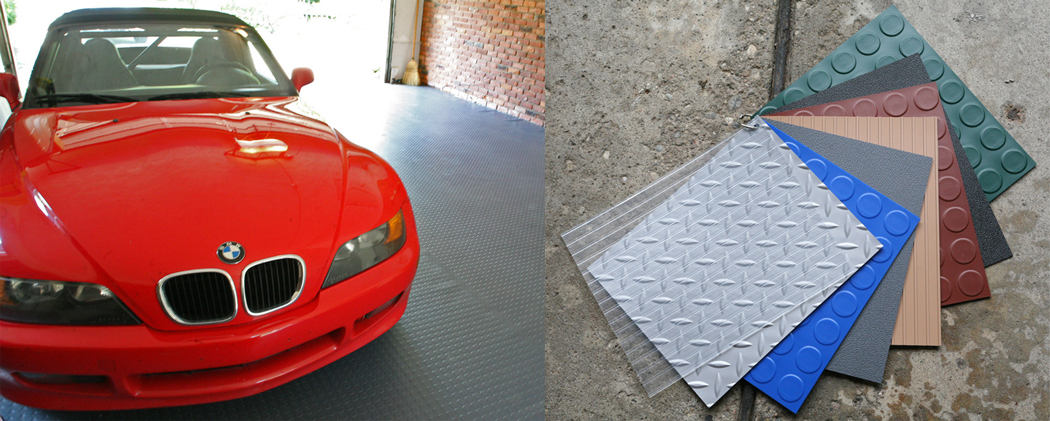 If you know the right places to look, here's never a shortage of cool, automotive-themed gifts to give and receive.
While the major gifting holidays are past, consider the following as a recommendations list for the rest of 2010.
Be creative with how you spread the word about what you'd like to receive. For example, send this URL to your honey with a hint that something off this list would be better for Valentines Day than red boxer shorts. Or you could print this out for your kids with a verbal reminder that Father's Day is only six months away. You get the idea.
G-Floor Garage Flooring
Oil stains. Tire marks. Spilled paint. These give old garage floors a well-used patina. If you live in northern climates where salt is used to clear the roads, the aforementioned collage may be enhanced with small craters of crumbling cement.
If your garage floor is showing a bit too much patina these days, check out the new G-Floor. It's cost-effective, easy-to-install, good looking garage flooring.
The G-Floor polyvinyl roll-out flooring comes in a variety of colors and textures with roll widths ranging from 7.5- to 10-feet. Roll lengths up to 24-feet for the commercial grade thickness (0.075-inch base thickness) and up to 60-feet for the industrial grade (0.85-inch base thickness). Cost, exclusive of labor (just a few hours for a typical residential garage) is $2 per square-foot for the commercial grade product. Plus, there's almost no floor prep. Just sweep out your old garage before you roll out the G-Floor.
When you are putting down the floor, two suggestions:
• Have a hand-truck or dolly to help move the rolls when they arrive. The rolls weigh in at up to 600 pounds for a typical 10- by 20-foot section
• When you go to cut around doors, steps, pillars and such, measure twice (or three times).
Living with the new G-Floor is easy. The floor doesn't have that "dusty" feel that old concrete always has. Plus the vinyl has some give to it, making it more comfortable to walk across. Additionally, the floor seems to seal out floor moisture, making the garage feel dryer.
In terms of clean-up, the floor sweeps up easily. Nothing seems to stick to the vinyl. Residual water puddles can be left to evaporate or swept out with a push broom. Oil also stays on the surface of the floor, making it easier to clean up compared to oil on concrete. Some liquids will stain some colors of the G-Floor, but the stains tend to disappear over time.
The G-Floor is an excellent choice when it comes to sprucing up a garage at a reasonable cost and with little effort.
Escort Passport 9500ix
Have you ever been stopped for speeding? It sucks. What's even worse is when a citation arrives unannounced in the mail. The indignity of it all.
The facts aren't pretty; currently there are an estimated 110,000 radar guns in police hands, a number bolstered by another 35,000 laser guns. These help the police write up one in four motorists. Furthermore, towns like Heath, Ohio are setting up speed cameras. In just 21 days, the town's unmanned cameras issued citations worth over $800,000. Sure, speeding tickets are about safety. Sure, we believe that.
Effective John Q. Public countermeasures include the new Passport 9500ix from Escort. Along with sniffing out all major radar bands plus laser, the 9500ix uses an on-board database and GPS to warn pilots about known red light and speed cameras. The database is updateable via the Web.
To reduce false alarms, the Passport also remembers the GPS coordinates local radar sources such as automated doors. You'll enjoy the silence the anti-false technology delivers.
The experts at Escort recommend that when you use a detector, mount it high on the windshield to give it a longer view down the road. The Passport's compact dimensions make this easy, and can help reduce the chance you'll open your mail to find a gift from a vigilant electronic constabulary.
Michelin Smart Jumper Cables
No guy in his right mind would admit to not knowing how to properly use jumper cables, so these technically aren't for you. However, these cables from Michelin are genuinely smart for people who, well, er … aren't.
Well, maybe it's not that they're not smart, it's just that they may not have experience jump starting a vehicle with a dead battery. They're perfect for wives, girlfriends, daughters, and any guys who have never done anything more electrical than replace batteries in a flashlight.
The Michelin Smart Jumper Cables automatically adjust polarity, so no more worries about, "Is it red to red or + to — ?" type questions. The cables also have a built-in surge protector, a key to protecting delicate automotive electronics that can literally be blown out by current spikes that may come along with a jump-start.
Automotive Custom Interiors (Idea Book)
Maybe you picked up an over-the-winter automotive project this past Fall? If so, consult author Sue Elliott's inspirational book, Automotive Custom Interiors.
The book's 160 pages of captioned photos show what's between the doors of concept cars, show vehicles, and customized street rods. ACI has the power to inspire, whether your tastes run toward chrome sculls and flame jobs or polished mahogany and calves leather.
The Car Chip
There are many uses for the Car Chip … a tiny device that plugs into the OBD-II diagnostic port of 1996 and newer vehicles. You can use it to frustrate and/or monitor your kids when they drive your car. You can use it to monitor engine functions or turn off the Check Engine Light. You can even use it to record dynamic characteristics such as speed, engine RPM, throttle position, and braking force.
Covering the Car Chip's capabilities would take more room to explain than we have here, but imagine the benefits of setting an audible alarm that goes off inside the car when a certain speed is exceeded. This is a solid deterrent for teen drivers, as is the specter of having their driving behavior recorded onto the Car Chip.
The Car Chip with its included PC-compatible software also aids with regular maintenance and even has the capability to help you know whether your vehicle will pass an emissions test before you schedule the test.
For enthusiasts, one of the most interesting capabilities is the Car Chip's ability to plot a speed graph in 1-second increments … useful for testing (and bragging) after driving a fast car.
Xtreme Battery Charger
According to PulseTech Products Corporation, "thousands" of lead acid batteries are needlessly thrown away every year. These batteries, and untold dollars, could be saved for another day by using a conditioner to "freshen" automotive lead acid batteries and extend battery life by 3-5 times.
As batteries age during normal use or sit idle, lead sulfate crystals enlarge (a byproduct of charging and discharging) and can build-up where they create a physical barrier across the surface of the plates within the battery cells. This build-up can become so dense that a battery is no longer able to accept or release energy, making it essentially "dead."
To help extend the life of a typical 12-volt lead acid battery, PulseTech Products Corporation developed a series of Xtreme Chargers that utilize a maintenance feature that clears up sulfate buildup.
Battery cold-cranking power of existing batteries often increases after several cycles on the Xtreme Charger, a plus for those living through this cold winter (what was that Al Gore was saying?).
The unit works with all types and sizes of 12-volt lead-acid batteries including flooded, fill and charge, Gel, AGM and Maintenance Free (from less than 10 Ah to over 150 Ah). PulseTech also offers battery testers and solar-powered chargers.